FOUR OAKS WOMEN'S MINISTRY READING LIST
(Scroll down the page to find books recommended by our pastors' & elders' wives.)
On this page, you will find book recommendations for everything from parenting and prayer to historical fiction and just-for-fun beach reads. No doubt you will find something that will appeal to you.
"I approached both of these books like medicine, knowing they'd be good for me in their spiritual richness. However, I found them to be surprisingly enjoyable reads as well. Sproul, especially, had great analogies and stories that made challenging concepts understandable." - Beth Kinnon
"I have loved both of Gloria's books, because she does such an amazing job of weaving the gospel into every paragraph and every situation. They are both fun to read and practical applications of the gospel for everyday life." - Julia Stake
A practical prayer book designed to help parents intercede for their children consistently and biblically.
Speaking from her own struggles, Barbara Duguid turns to the writings of John Newton to teach us God's purpose for our failure and guilt—and to help us adjust our expectations of ourselves. Her empathetic, honest approach lifts our focus from our own performance back to the God who is bigger than our failures—and who uses them for his glory.
In this inspiring new book, Timothy Keller, one of the country's most popular spiritual guides, reveals the unvarnished truth about faith, our hearts' desires, and the pursuit of happiness-and where all of it can ultimately be found.
"In Passion and Purity, Elisabeth Elliott uses her own love story with Jim to highlight the beauty of finding love and fighting for purity in it. It's a great read for moms and daughters too." – Susan Gilbert
Kara Tippetts knows the ordinary days of mothering four kids, the joy of watching her children grow ... and the devastating reality of stage-four cancer. In The Hardest Peace, Kara doesn't offer answers for when living is hard, but she asks us to join her in moving away from fear and control and toward peace and grace. Most of all, she draws us back to the God who is with us, in the mundane and the suffering, and who shapes even our pain into beauty.
In Life Together, Dietrich Bonhoeffer, renowned Christian minister, professor, and author of The Cost of Discipleship recounts his unique fellowship in an underground seminary during the Nazi years in Germany. Giving practical advice on how life together in Christ can be sustained in families and groups, Life Together is bread for all who are hungry for the real life of Christian fellowship.
Author Paul Miller shares his insights and conclusions about how to connect the broken pieces of your life and allow prayer—even poorly delivered—to fill the gaps with meaning and substance.
This study will help revolutionize your speech habits and improve your relationships. Let God's Word change you from the inside out. Be transformed!
Pastor Scotty Smith offers 365 days of Gospel-centered devotional prayers to help readers live out their Christian faith.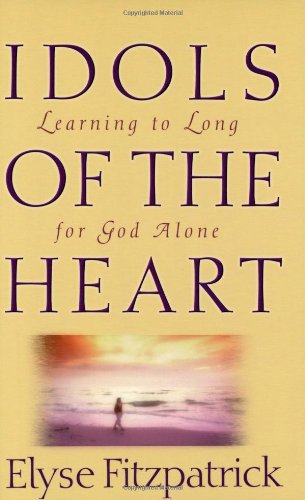 This book really goes deep into a Biblical understanding of idolatry. It challenged me to think anew about how idols can so subtly creep into our lives, and to evaluate where specifically that was happening in my own life. For anyone who struggles to overcome patterns of sin and the guilt that accompanies it, this is such a valuable book.
This is a combination memoir/exhortation on prayer from the mother of Paul Miller, author of A Praying Life, and wife of Jack Miller, founder of World Harvest Mission. Her transparency about her own weakness and need for Christ even as a mature believer has encouraged me greatly. I love the stories about her life as she grew deeper in her life of prayer and love for Christ. A really wonderful portrait of a Godly woman that I highly recommend.
This book was such a huge encouragement to me when my kids were babies/toddlers/preschoolers. It's a funny, insightful, Biblical exhortation to young moms, a short, easy read, and something I went back to again and again. If you're in this season, read this book!
A few friends re-discovered these books this year and it reminded me to go back and enjoy them again myself. If you've only ever seen the movies, or you haven't read the books since childhood, go back and read them again! They're a wonderful portrait of adoption, growth in character, womanhood, motherhood and so much more.
Best-selling author Paul Miller tackles these tough questions at the heart of our struggle to love head-on. Drawing from the book of Ruth, A Loving Life offers the help we need to embrace relationship, endure rejection, cultivate community, and reach out to even the most unlovable around us as we discover the power to live a loving life.
Nancy Main recommends reading these books in the order they appear here to get the most out of them. "Reading history is like standing by myself and looking out over the ocean. It tends to put me in my place and remind me that God has an infinite kingdom over the ages that is so much larger than I can imagine. Seeing the sovereign hand of God in the details you read in history is awesome." – Nancy Main
As Adolf Hitler and the Nazis seduced a nation, bullied a continent, and attempted to exterminate the Jews of Europe, a small number of dissidents and saboteurs worked to dismantle the Third Reich from the inside. One of these was Dietrich Bonhoeffer―a pastor and author. In this New York Times best-selling biography, Eric Metaxas takes both strands of Bonhoeffer's life―the theologian and the spy―and draws them together to tell a searing story of incredible moral courage in the face of monstrous evil.
In an era where Americans are desperately seeking heroes and mentors, here is the story of how a saucy young lady from Denver, Mamie Doud Eisenhower, meets her match in handsome Ike Eisenhower, a farm boy fresh out of West Point, and becomes the Army wife par excellence.
Out of the depths of the Depression comes an irresistible story about beating the odds and finding hope in the most desperate of times—the improbable, intimate account of how nine working-class boys from the American West showed the world at the 1936 Olympics in Berlin what true grit really meant.
"Lysa shares how in daily situations she struggles to be the godly woman she knows she is called to be. We can all relate to beginning a day at peace and then coming unglued over the silliest things." - Ginny Schoolfield
This is historical fiction based on the trains that took orphan children from NYC into the Midwest around the end of the 1800's . Rich in detail and epic in scope, Orphan Train is a powerful novel of upheaval and resilience, of unexpected friendship, and of the secrets we carry that keep us from finding out who we are.
This beautiful, stunningly ambitious instant New York Times bestseller is about a blind French girl and a German boy whose paths collide in occupied France as both try to survive the devastation of World War II.
The years-long New York Times bestseller soon to be a major motion picture from Spielberg's Dreamworks, is about a lighthouse keeper and his wife.
"I believe that we have a unique ability to minister to the homosexual community right now. I want to know more about this community so that I can be sensitive to the ways to speak into their lives with the Gospel." – Pru Sloderbeck
This is a beautiful and insightful account of a person coming to faith. C.S. Lewis takes us from his childhood in Belfast through the loss of his mother, to boarding school and a youthful atheism in England, to the trenches of World War I, and then to Oxford, where he studied, read, and, ultimately, reasoned his way back to God. It is perhaps this aspect of Surprised by Joy that we—believers and nonbelievers—find most compelling and meaningful; Lewis was searching for joy, for an elusive and momentary sensation of glorious yearning, but he found it, and spiritual life, through the use of reason.
As Ravi Zacharias points out, unquestioning acceptance of all things spiritual is absurd. All religions, plainly and simply, cannot be true. In this book, Zacharias considers a unique claim that Jesus made and then contrasts the truth of Jesus with the founders of Islam, Hinduism, and Buddhism with compelling insight and passionate conviction. In addition to an impressive breadth of reading and study, he shares his personal journey from despair and meaninglessness to his discovery that Jesus is who He said He is.
The legendary Mother Teresa's work for and among the poor has become the yardstick by which the entire world measures compassion, generosity, and selflessness.
What does it mean to be "saved by grace?" Now revised and updated, this classic reminds readers of the Reformation's radical view of God and his saving grace, the liberating yet humbling truth that we contribute nothing to our salvation. It lays out the scriptural basis for this doctrine and its implications for a vibrant evangelical faith. Horton's accessible treatment will inspire readers with a fresh amazement at God's grace.
Meet a man forced to live in a fast changing and godless society. He faced fears about the future, concern for his safety, and the discouragement of world that seemed to be falling apart at warp speed. Sound familiar? His name was Daniel, and with the power of hope, humility, and wisdom, he not only thrived, he changed an empire while he was at it. Though he lived thousands of years ago, he has a much to teach us today.
In Accidental Pharisees, bestselling author Larry Osborne diagnoses nine of the most common traps that can ensnare Christians on the road to a deeper life of faith. Rejecting attempts to turn the call to follow Christ into a new form of legalism, he shows readers how to avoid the temptations of pride, exclusivity, legalism, and hypocrisy.
Tom Nettles has spent more than 15 years working on this magisterial biography of Charles Haddon Spurgeon, the famous 19th century preacher and writer. More than merely a biography it covers his life, ministry and also provides an in-depth survey of his theology.
When Sinners Say "I Do" is about encountering the life-transforming power of the gospel in the unpredictable journey of marriage.
Has your God-given ambition been starved and sedated for too long? Are you ambitious? It's time to reach further and dream bigger for the glory of God.
Is it possible that your passion for God suffers because your vision of God suffers? In Untamable God, Stephen Altrogge takes us on a journey through God's word, bringing us into close contact with the God of sharp edges and brilliant light in a personal, intimate, engaging, humorous style.
With humor and honesty, Stephen Altrogge helps us do battle with discontentment by steering us back to the central truths of the gospel. He addresses issues such as complaining and idolatry, reminding us of all that we have, and will have, in Christ.
In this collection of humorous and heartfelt essays, Stephen Altrogge takes a close look at various aspects of Christian culture. In the vein of writers such as David Sedaris and Dave Barry, Altrogge tackles topics with self-deprecating humor, sarcasm, and a thorough grasp of scripture. This book will cause you to laugh at yourself, laugh at others, and perhaps think a little deeper about certain subjects.